After the 1965 earthquake, Patitiri began to grow rapidly and soon became the capital of the island. Gradually, the inhabitants of Alonissos left the Old Town, which had suffered great damage and began to build settlements closer to the sea. In the past, the wine cellars as well as the wine presses of the grapes were located in Patitiri, from where the name of the settlement came.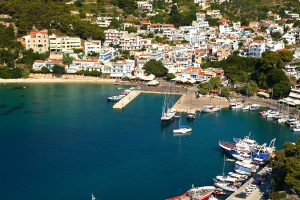 Patitiri is the main port of the island where ships and dolphins approach. In the last 5 years, a new pier has been created outside the main port where large ships are anchored, thus avoiding overcrowding inside the port. Even in the port of Patitiri (as well as in Votsi) there is a slide to drop or pull your boat. Patitiri beach, although located in the main port, has crystal clear waters and is flooded by bathers every day.
As we mentioned at the beginning, the rapid residential development was anarchic and the settlement of Patitiri has not preserved the otherwise traditional architecture of the island. Nevertheless, the new buildings tend to improve the image of the village, since they are built in a traditional way (tiled roofs), and the residents themselves are slowly renovating them, giving a more traditional color.
Patitiri, as an informal center of the island, includes most of the island's businesses as well as most services. Details: there are most hotels, restaurants, taverns, shops, super market and various services, (Post, police, pharmacies, medical center, bank (National only with ATM 24h machine), ticketing agencies, travel agencies, diving center, press office, internet cafe, municipal bus starting point, taxi rank etc.)
Also the port is the starting point of the sea excursions to the sea park (ETHPAVS) and the beaches. There is also the possibility of organizing walks from the network that has been created on the island as well as the conduct of underwater diving by the certified schools that it has on the island.


Regarding the summer of 2008, there is also the possibility of connecting to free wireless internet (wi-fi) throughout the port, which is very useful for those who come by boat and want to get a weather card or surf the internet. (you will connect via the network teleaccess without a password, or with the wireless magnesia network by creating a free account, the internet explorer opens, you login and you are ready to navigate to any website you want). update March 10, 2012 – the aforementioned networks, although they exist, have not been working lately, – most likely the funding has expired – so you can use the free access offered by several cafes and restaurants on the beach. Just ask the waiter for their password.
During your tour of our port do not forget to visit the folklore-historical museum "Costa & Angelas Mavrikis", which includes rare and unique exhibits. It should be noted that it is also the only museum with a piracy department in Greece.